Realizing agriculture's potential requires the industry to look at the entire supply chain, from R&D right through to the end user, in a new way.
To make a success of it an integrated approach, which creates value for each person involved, is required.
Nuseed's approach is to start with the consumer's specific problem and collaborate with the industry to develop a customized Nuseed Value Chain to answer the challenge efficiently.
Brent Javra, Nuseed's Global Commercial General Manager says, "We're facilitating from start to finish, right from the initial R&D and regulatory requirements. By partnering with our farm customers and through collaboration with industry partners, we are maximizing top expertise and existing infrastructure to deliver a top-quality new plant-based solution to our end-use customers worldwide."
The Nuseed Value Chain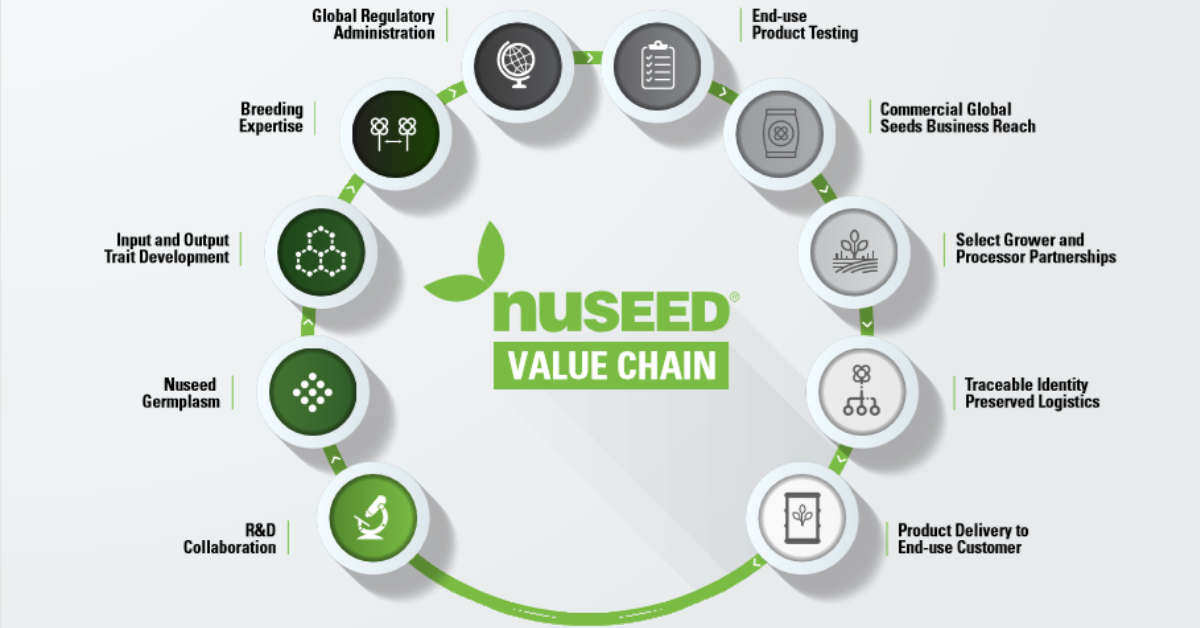 Nuseed's Value Chain not only supports those in it, but it also benefits the end customers by ensuring products get from the field to them more efficiently and with required identity preservation, stewardship and certification protocols, plus higher standards that Nuseed has identified as adding value.
Speaking about Nuseed's Carinata Value Chain, Alex Clayton, Nuseed's Global Business Development Lead for Carinata, says, "Nuseed is removing many barriers to large-scale adoption throughout the supply chain by facilitating the process from R&D trials to growers' fields, through regulation and logistics, to delivery to a very specific end-use market.
"The result is more efficiencies, improved quality control, and more value to growers, processors, customers, and really the entire population wanting low-carbon fuel and reduced greenhouse gas emissions."
Nuseed will continue to expand its global capabilities where and when it makes sense, working with the best partners strategically and facilitating local R&D, the regulatory and certification approval processes, product supply, quality and added value from seed to end-use customer.