At Nuseed, we understand that a successful growing season doesn't just come from providing quality seed. It requires comprehensive and dedicated local support, and that's precisely what our team is committed to providing. From seed delivery to harvest time and beyond, we are with you every step of the way, ensuring a smooth and successful growing season. 
Sustainable Success with Nuseed Carinata
Before we dive into the local support our team offers, let's talk about why Nuseed Carinata is a contract cover crop worth growing between your main crop rotations. Nuseed Carinata is a sustainable and resilient crop that offers numerous benefits for growers and the environment. It is a non-food oilseed cover crop that is harvested and processed into lower carbon oil to help replace fossil oils and high protein meal for animal feed. By choosing  Nuseed Carinata, growers have the opportunity to contribute to a more sustainable future, plus improve their soil and profitability.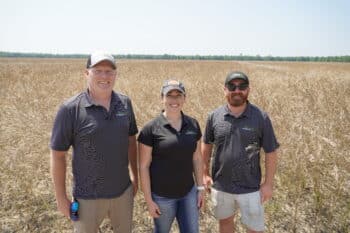 A Dedicated Local Support System
Our dedicated local field team is here to support you throughout the entire season and here are some of the ways we provide comprehensive support: 
Contracting and Certification
Nuseed Carinata is a certified sustainable and non-food cover crop for bioenergy and is required to meet specific qualifications. The Roundtable on Sustainable Biomaterials (RSB) certification validates the compliance of Nuseed Carinata with sustainable standards. You are likely already familiar with and keeping track of much of the required documentation. Our team at Nuseed is here to provide guidance throughout the process, ensuring that you meet all the necessary requirements from contract signing to grain delivery. 
Seed Delivery and Planting Season Support
We understand that the success of your crop starts with quality seeds and timely delivery. Our team ensures that your Nuseed Carinata seeds reach you on time, allowing you to start your planting season without any delays. Should you have any questions or need advice regarding planting methods, our experts are readily available to provide in-season support. 
In-Season Support for Agronomic Needs 
Growing a successful crop requires ongoing agronomic support. Our team is just a phone call away. Whether you have questions about nutrient management, pest control, or any other agronomic concerns, we are here to provide guidance and help you make informed decisions throughout the growing season. 
 Harvest Guidance and Grain Delivery Support
As harvest time approaches, our support doesn't end. We offer guidance to ensure a smooth and efficient harvest. Our team can provide insights on the optimal harvest timing, equipment calibration, and best practices to maximize your Nuseed Carinata yield. Additionally, we provide grain delivery support, making sure your harvest is handled and transported with care. 
Field Visits to Maximize Crop Potential
One of the unique ways we support our growers is through field visits conducted by our team of experts. These visits allow us to assess your Nuseed Carinata crop and provide tailored insights to maximize its potential. Our experts will work closely with you, taking into account factors such as soil conditions, weather patterns, and crop health to devise strategies that optimize your crop's growth and yield.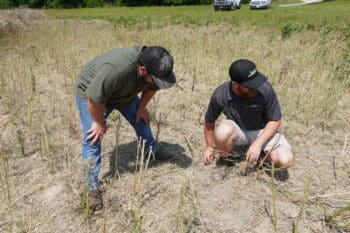 Growing Together with Nuseed Carinata
Choosing Nuseed Carinata means choosing a dedicated partner committed to your success at every stage of the process. Our local team provides the knowledge, expertise, and support you need to grow a high-performing and sustainable crop. From planting to logistics, we are here to ensure your journey with Nuseed Carinata is as seamless and rewarding as possible.  
Ready to experience the benefits of Nuseed Carinata and our local support network? Connect with our team today and join the growing community of successful Nuseed Carinata growers. Together, let's cultivate a sustainable future while growing our success one season at a time.