Monola growers, you could win just by sharing the best photo of your Monola crop!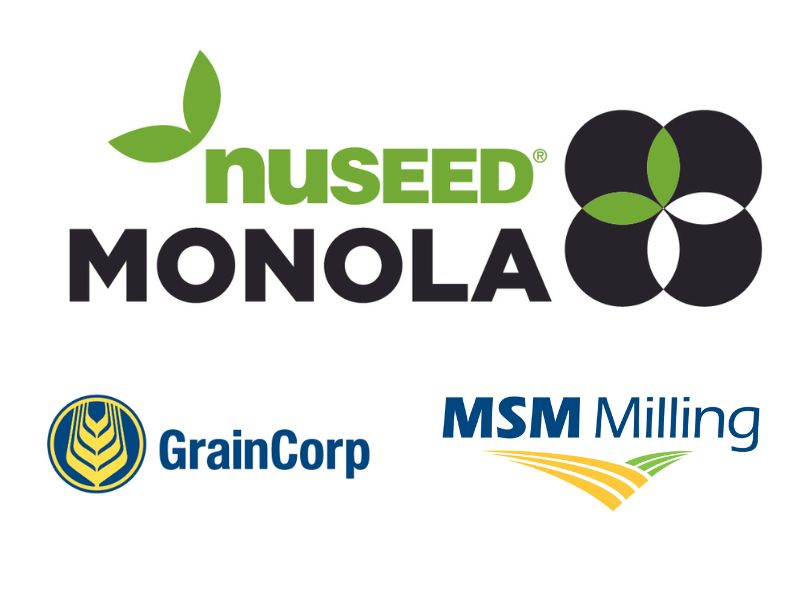 At Nuseed we love seeing Monola growers take pride in their crops at this time of year – that's why we're offering prizes to those lucky growers who share their progress!
To enter simply share a photo of your Monola crop on Twitter or Facebook and tag @NuseedAustralia and #MonolaPaddockPride.
We will be looking for the most interesting, inspirational and exciting photos to win some prizes.
There are four great prize packs to be won – so get snapping!
Entries will be open to photos posted from 12 September to 12 October 2022 with the winners announced on Twitter and Facebook. Entry is open to registered Monola growers only.
See the Terms and Conditions below for full competition details.
Four prize packs to be won:
Pack 1:
Monola seed for 2023 planting season valued at over $700
Phillip Shaw Wines Orange one dozen bottles of wine valued at $340
RM Williams voucher valued at $300
KFC voucher valued at $90
McDonalds McCafe voucher valued at $90
Pack 2:
Nuseed merchandise pack, including a Stanley combo thermos lunch pack, jacket, water bottle, hat & beanie
RM Williams voucher valued at $150
McDonalds McCafe voucher valued at $50
KFC voucher valued at $45
Pack 3:
Nuseed merchandise pack, including a jacket, water bottle, hat & beanie
McDonalds McCafe voucher valued at $30
KFC voucher valued at $45
Pack 4:
Nuseed merchandise pack, including a water bottle, hat & beanie
KFC voucher valued at $45
McDonalds McCafe voucher valued at $30
Terms & Conditions
The Nuseed Monola paddock pride promotion is being conducted by (the "Promoter") Nuseed Pty Ltd (ABN 82 088 231 814) of 103-105 Pipe Road Laverton VIC 3026.
Promotion commences on 12 September 2022 and closes at 5:00pm AEST on 12 October 2022 ("Promotional Period") but is subject to change by the Promoter.
Entries are only open to Monola registered growers. By registering in this promotion, registrants confirm that they have read, understood and accept these Terms and Conditions.
To enter the promotion, entrants must publicly post an image of a farm, paddock or crop, with the authority of the owner or lease of that farm, paddock or crop, using the entrant's personal Twitter account or Facebook account during the Promotional Period. Entrants must include within their post the phrase @NuseedAustralia '#MonolaPaddockPride'. Alternatively, you can submit your entry via email to [email protected] if you don't have a Twitter or Facebook account.
The entry will be deemed an entry if it complies with these Terms and Conditions and is visible to the public during, and until the end of, the promotional period and may be tracked by the hashtag @NuseedAustralia '#MonolaPaddockPride'
This promotion is open to any customer, except distributors, retailers, wholesalers and agents of the Promoter or its affiliates or products in Australia, during the Promotion Period.
The Promoter reserves the right, at any time, to verify the validity of entries and the eligibility of entrants and to disqualify any entrant whose entry is not in accordance with these Terms and Conditions or who tampers with the entry process. Failure by the Promoter to enforce any of its rights at any stage does not constitute a waiver of those rights.
Incomplete, indecipherable or illegible entries will be deemed invalid.
Entries containing profanity or otherwise offensive material will be disqualified.
Entries promoting competitive products to those of Nuseed Australia Pty Ltd will be disqualified.
If there is a dispute as to the identity of an entrant, the Promoter reserves the right, in its sole discretion, to determine the identity of the entrant.
The winning entries will be judged by the Promoter according to the post considered in the Promoter's sole discretion to be the most interesting, engaging or inspirational in accordance with the competition terms.
The Promoter will determine the winner at the Promoter's head office on 13 October 2022. The winner will be notified via Twitter message ("Direct Message") or Facebook message within two (2) business days of the draw. The Promoter's decision is final. The Promoter will publish the names of prize winners via the @NuseedAustralia Twitter account and Facebook account on 14 October 2022.
Prizes cannot be transferred or exchanged for other goods and services or redeemed, in whole or in part, for cash.
If for any reason the Promotion cannot be conducted as intended, the Promoter reserves the right to terminate, modify or suspend the Promotion.
Original winning entrants will be given 5 business days from 14 October 2022 to supply their postal address, PO Boxes excluded, for the delivery of their prize. If a secondary judgement is required it will be carried out at Promoter's head office on 2 November 2022 and the winner will be notified by Twitter or Facebook direct message within two (2) business days of the judgement.
Each entrant hereby provides Promoter with an irrevocable worldwide non-exclusive royalty-free licence to use the entrant's photographic entry for marketing or promotional purposes, and hereby consents to alterations of the entry, non-attribution, and other uses of the entry that may infringe the entrant's moral rights as defined in the Copyright Act 1968 (Cth).
For participants under 18 years of age a parent or guardian consent is required. The consenting guardian is then bound by these Terms and Conditions.
This Competition is in no way sponsored, endorsed or administered by or associated with Twitter, Facebook or any other social network. Entrants acknowledge that: a. any information they provide in connection with the Promotion is provided to the Promoter and not to Twitter, Facebook or any other social network; and b. any questions, comments or complaints regarding the Promotion will be directed to the Promoter, not to Twitter, Facebook or any other social network; and c. entrants release Twitter, Facebook and any other social network and their associated companies from all liability arising in respect of the Promotion and use or publication of the image.
To the greatest extent permitted by law, the Promoter excludes all warranties, representations or guarantees (Warranties) regarding the Promotion and any prizes, including any Warranties which may have been made in the course of advertising or promoting the Promotion. The conduct of the Promotion or the supply of prizes may involve third parties, and the Promoter makes no Warranties and disclaims all liability in connection with any such third parties, their acts or omissions. By entering the Promotion, an entrant releases and indemnifies the Promoter and its related bodies corporate (including the officers, employees and agents of each) from and against all actions, penalties, liabilities, claims or demands the entrant may have against the Promoter or that the Promoter may incur for any loss or damage which is or may be suffered or sustained as a direct or indirect result of an entrant entering or participating in the Promotion or winning or failing to win a prize, or using or permitting any other person to use the prize, except for any liability which cannot be excluded by law or which would cause any part of this clause to be void or unenforceable.
If despite the foregoing clause, the Promoter incurs a liability to an entrant under any law which implies a Warranty into these Terms of entry which cannot legally be excluded, the Promoter's liability in respect of the Promotion is limited to either resupplying such goods or services as form part of the Promotion or paying the cost of resupplying those goods or services.
Without limiting any of the foregoing, in no circumstances will an entrant or the Promoter have any liability to the other for any loss or damage suffered which is indirect or consequential in nature, including without limitation any loss of profit, loss of reputation, loss of goodwill, or loss of business opportunity.
All entries become the property of the Promoter. As a condition of entering into this Promotion, entrants agree to assign all copyrights or other intellectual property rights in and to their entry and any related content to the Promoter. You warrant that entry content is lawful and not misleading and that the Promoter's use of such content will not infringe the rights of any third parties. The Promoter has no obligation to credit you as the author of any content submitted and may otherwise do any acts or omissions which would otherwise constitute an infringement of any moral rights you may have as an author of content.
Entrants consent to the Promoter using the personal information provided in connection with this promotion for the purposes of facilitating the conduct of the promotion and awarding any prizes, including to third parties involved in the promotion and any relevant authorities. In addition to any use that may be outlined in the Promoter's Privacy Policy, the Promoter including third parties may, for an indefinite period, unless otherwise advised, use the personal information for promotional, marketing, publicity, research and profiling purposes, including sending electronic messages or telephoning the entrant.
The collection and disclosure of personal information provided in connection with this promotion will be handled in accordance with the Promoter's Privacy statement which adheres to the Privacy Act 1988 (Cth) and Australian Privacy Principles.